Tip of the Day:
You can unlock specific functionality on the site by running
Hentai@Home
and spending the Hath you earn on
Hath Perks
. For example, you can unlock more thumbnail rows, more results on the search screen, or a larger daily allotment of images.

Front Page

Torrents

My Home

Favorites

Upload Gallery

Maintain Galleries

Toplists

Bounties

News

Forums

Wiki

HentaiVerse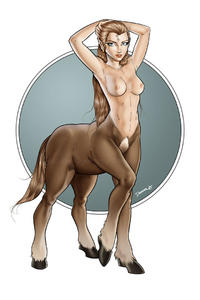 Centaur Girls (upgraded)

Thumb Size:
Normal Large

Thumb Rows:
4 10 20 40

Create External Gallery:

Archive Download

Torrent Download ( 0 )

Hentai@Home Download

Gallery Stats

Report Gallery

Melkaya

| | |
| --- | --- |
| Posted: | 2009-01-22 09:51 |
| Images: | 278 @ 55.71 MB |
| Resized: | For browsing |
| Parent: | 71613 |
| Visible: | Yes |
| Language: | Japanese |
Rating:

(

29

)
Average: 4.17
Lots of different centaur girls
...

Add to Favorites
(
66
)

Petition to Expunge ( 0% )

Petition to Rename ( 0% / 0% )
Showing 1 - 40 of 278 images
Posted on 22 January 2009, 09:51 UTC by
Melkaya

Lots of different centaur girls
Posted on 07 October 2011, 20:12 UTC by
dreadwing129

Score
don't tag pregnant if there's none in it
Posted on 07 March 2012, 06:32 UTC by
Titsplox

Score
It looks good, but I remember in one of the galleries on this site there was a three-page comic of a girl that was giving birth to a horse, the hind legs coming out were actually her new centaur legs. The penis that came out of it started fucking her too.

Anyone have a sauce for that comic?
Posted on 22 December 2013, 09:22 UTC by
CLHanssen069

Score
@CarnageScissors I to wish they were real.

I have some of the pictures of human males having sex with female centaurs. I am asking if anyone has new pics please post them here and also send them to my e-mail address of:

ChrisLoganHanssen@gmail.com

Thank you.
Posted on 23 February 2013, 02:14 UTC by
CarnageScissors

Score
Sometime I wish centaur girls were real :(
Posted on 06 February 2014, 03:33 UTC by
joe375

Score
I wish that more artists would draw female centaurs with the vagina still present in front in the normal place on the human part as well as the horse one in back. Only a few like Naga draw em that way, and I think it's a pity, kinda hot to have two.