Tip of the Day: You can create and upload torrents for any gallery by hitting the Torrent Download link from the gallery pages. Doing this will earn you GP, depending on how many people download the torrent. You can also add torrents to your own galleries before you publish them.

Front Page

Torrents

My Home

Favorites

Upload Gallery

Maintain Galleries

Toplists

Bounties

News

Forums

Wiki

HentaiVerse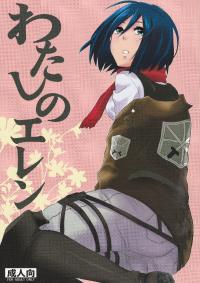 (FALL OF WALL2) [Hirataira (Hira Taira)] Watashi no Eren (Shingeki no Kyojin)
(FALL OF WALL2) [平平 (ひらたいら)] わたしのエレン (進撃の巨人)

Thumb Size:
Normal Large

Thumb Rows:
4 8 14 20 26 32 40

Create External Gallery:

Archive Download

Torrent Download ( 1 )

Hentai@Home Download

Gallery Stats

Report Gallery

Ronin

| | |
| --- | --- |
| Posted: | 2013-09-27 15:32 |
| Images: | 22 @ 97.78 MB |
| Resized: | For browsing |
| Parent: | None |
| Visible: | Yes |
| Language: | Japanese |
Rating:

(

32

)
Average: 4.28

Add to Favorites
(
16
)

Petition to Expunge ( 0% )

Petition to Rename ( 137% / 102% )
Showing 1 - 22 of 22 images
Posted on 29 September 2013, 05:39 UTC by
paperfan

Score
Thanks for uploading! I was curious about this one when I saw the preview at Toranoana with Mikasa declaring to Armin that she and Eren were going to be making babies now. Then she picks Eren up and carries him away. That's probably one of the most hilarious things I've seen so far that wasn't totally over the top.

There's some weird stuff in this book though like Eren screaming Annie's name during orgasm. Where'd that come from? He's lucky to be alive after that. Also his erection dying when he sees Mikasa's abs, then said abs magically disappearing. LOL WHUT? I wish I could erase the part where Mikasa's father is showing her how babies are made though. I was like wtf?
Base +9,
Idontlikeusernames +3
Posted on 28 September 2013, 01:17 UTC by
rudolfonse

Score
this is cute...I hope it was longer...
Base +9