Tip of the Day:
Doing stuff like uploading, tagging and rating galleries, creating and seeding torrents, or running
Hentai@Home
, will earn you points towards the
Toplists
. This will give you bonus EXP, and a nice bonus if you place high at the end of a month.

Front Page

Torrents

My Home

Favorites

Upload Gallery

Maintain Galleries

Toplists

Bounties

News

Forums

Wiki

HentaiVerse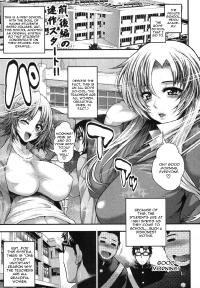 [Taihei Tengoku] Gakuen Heaven Ch. 1 [English]

Thumb Size:
Normal Large

Thumb Rows:
4 10 20 40

Create External Gallery:

Archive Download

Torrent Download ( 1 )

Hentai@Home Download

Gallery Stats

Report Gallery

CGrascal

| | |
| --- | --- |
| Posted: | 2013-05-18 14:30 |
| Images: | 24 @ 13.62 MB |
| Resized: | Originals only |
| Parent: | None |
| Visible: | Yes |
| Language: | English (T) |
Rating:

(

68

)
Average: 4.66

Add to Favorites
(
218
)

Petition to Expunge ( 0% )

Petition to Rename ( 112% / 0% )
Showing 1 - 24 of 24 images
Posted on 18 May 2013, 15:03 UTC by
somebodyelse_

Score
@brodom: the second (and final) chapter should be the one published in Comic Shingeki 2012-07 (http://g.e-hentai.org/s/0fa1fad4e6/574152-10). It doesn't seem to go develop like that, so you shouldn't worry.
Posted on 18 May 2013, 15:12 UTC by
Brodon

Score
Shit guys....I....I might actually get mad if this ends in NTR.....(though I'd still fap to it anyway)

EDIT:

somebodyelse: Oh, thanks man.
Posted on 18 May 2013, 17:41 UTC by
Tenchi Ryu

Score
Thank god Taihei is getting translation love. Ever since GUI Cogo has been uploading Comic Shingeki, I've fallen in love with this guy.

And no, this will be super duper vanilla guys.
Posted on 18 May 2013, 16:16 UTC by
smartz118

Score
"So moe, he died" Get in line, boys, the pile for the corpses due to moe-induced-death starts on my body right...here. *collapse*
Posted on 18 May 2013, 19:55 UTC by
cooltools

Score
If I read these hard enough, maybe Miracle Dojikko Maid Teacher Rinda will get her own spinoff.
Posted on 18 May 2013, 15:19 UTC by
zgundam1

Score
I don't think it is going to end in NTR but if it does I still read it. She is going to get her mind broken at some point but another teacher is going to help the boy save her.
Posted on 18 May 2013, 16:04 UTC by
runset

Score
just enjoy the ride, this story have the most fulfilling good doses of vanilla. i already read it and glad that i wasn't develop into ntr.
Posted on 18 May 2013, 21:42 UTC by
alldark

Score
Come on suckers, second part already out http://g.e-hentai.org/g/577024/3bde710dfc/, no all this shit for you, everyone fucked as they should be.
Posted on 20 May 2013, 10:57 UTC by
Himajin Breaker

Score
Haha that imitation Yamcha death pose on page 11.
Posted on 27 May 2013, 22:08 UTC by
Rail+S

Score
I'd like chaps 1 + 2 to be made into one so I can fav , thanks
Posted on 18 May 2013, 17:39 UTC by
Neklin

Score
Pretty good art.
The story is lame garbage though.
Not hard to guess what will happen in the next chapter or so.
Hardly nothing good and sane.....