Tip of the Day: You can create and upload torrents for any gallery by hitting the Torrent Download link from the gallery pages. Doing this will earn you GP, depending on how many people download the torrent. You can also add torrents to your own galleries before you publish them.

Front Page

Torrents

My Home

Favorites

Upload Gallery

Maintain Galleries

Toplists

Bounties

News

Forums

Wiki

HentaiVerse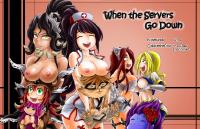 [Kimmundo] When the Servers go Down (League of Legends) [English] (Complete)

Thumb Size:
Normal Large

Thumb Rows:
4 10 20 40

Create External Gallery:

Archive Download

Torrent Download ( 2 )

Hentai@Home Download

Gallery Stats

Report Gallery

Snapb

| | |
| --- | --- |
| Posted: | 2013-04-01 11:55 |
| Images: | 184 @ 183.7 MB |
| Resized: | For browsing |
| Parent: | 559901 |
| Visible: | Yes |
| Language: | English (T) |
Rating:

(

621

)
Average: 4.83
**IF YOU WANT TO TRANSLATE USE THIS** https://www.dropbox.com/s/sosda7xyx3wt83a/180.zip They're raws of all of the pages ALSO, FOLLOW ME ON TWITTER YO, I WILL SHOUTOUT STREAMS N STUFF THERE: twitter.com/cabbiethefirst Hello there, cabbiethefirst here. This is the League of legends doujin titled "When the Servers Go Down" written by Kimmundo (ZONE). You can find us around *****.net we'll be posting around there on things regarding the next comic We will continue to post our comics to other places as well, there will be a small mark on them however. I'll also be posting updates to my R34 page: http://rule34.paheal.net/user/cabbiethefirst I also stream when I work on the pages here: http://www.livestream.com/cabbie (I try to stream whenever I work on the pages) More to come in the following weeks~ Feel free to add me on leagues if you have any burning questions: cabbiethefirst @ NA server Enjoy! -Cabbiethefirst Update 8/18/12 Updated with 21 more shaded pages. Update 9/12/12 Updated with pages: 6, 13, 91-100 Update 10/6/12 Updates with pages: 101-110 & Kat now has red hair. Update 11/11/12 I will no longer be updating this gallery until the doujin is completed. I will be posting a page every once in a while to my R34 page: http://rule34.paheal.net/user/cabbiethefirst Update 1/20/13 JK, one last update before the entire comic is released. Update 4/1/13 WE ARE FINALLY DONE WITH THIS SHIT, NO APRIL FOOLS JOKE Enjoy~
...

Add to Favorites
(
1100
)

Petition to Expunge ( 0% )

Petition to Rename ( 0% / 0% )
Showing 1 - 40 of 184 images