Tip of the Day:
Doing stuff like uploading, tagging and rating galleries, creating and seeding torrents, or running
Hentai@Home
, will earn you points towards the
Toplists
. This will give you bonus EXP, and a nice bonus if you place high at the end of a month.

Front Page

Torrents

My Home

Favorites

Upload Gallery

Maintain Galleries

Toplists

Bounties

News

Forums

Wiki

HentaiVerse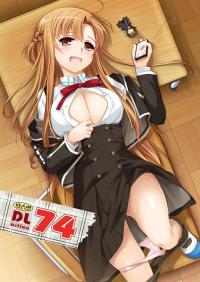 (SC58) [Digital Lover (Nakajima Yuka)] D.L. action 74 (Sword Art Online)
(サンクリ58) [Digital Lover (なかじまゆか)] D.L. action 74 (ソードアート・オンライン)

Thumb Size:
Normal Large

Thumb Rows:
4 8 14 20 26 32 40

Create External Gallery:

Archive Download

Torrent Download ( 1 )

Hentai@Home Download

Gallery Stats

Report Gallery

lolotax

| | |
| --- | --- |
| Posted: | 2013-03-04 06:49 |
| Images: | 19 @ 11.20 MB |
| Resized: | For browsing |
| Parent: | None |
| Visible: | Yes |
| Language: | Japanese |
Rating:

(

63

)
Average: 4.50

Add to Favorites
(
44
)

Petition to Expunge ( 0% )

Petition to Rename ( 0% / 0% )
Showing 1 - 19 of 19 images
Posted on 05 March 2013, 12:55 UTC by
YQII

Score
I'll probably translate this one.

Edit: I am translating this one.
Base +11,
udizzle +3
,
sirlachdanan +21
,
Gawl +17
,
_bodi +12
,
pervido +17
,
hanime_23 -8
,
JRockefeller +11
,
Hollow_Gaea +7
Posted on 04 March 2013, 12:37 UTC by
alive

Score
I think I prefer others in SAO like Lizbetz or some minor character like that cait sith leader.
Base +9,
Kono +9
,
Herp in your Derp +19
,
backslash +8
,
hanime_23 -8
,
rakodil -11
,
akiyuki -9
,
xBeowolfx +10
Posted on 04 March 2013, 12:32 UTC by
Kuntzy21

Score
It's pretty obvious that Nakajima Yuka loves Asuna, but I don't think it's quite at the level of Kuroneko yet. It's always great to see a new D.L. Action though no matter which character she draws (I do have to admit I slightly prefer her Asuna doujins though, must be the breasts).

@tklh27

It depends... she did lots of Mikoto from Index for while but she hasn't done any recently, whereas she's continuously pumping out Kuroneko doujins to this day. I do hope she keeps it up though, Matsuryuu and her are my favorite SAO artists.

@YQII

That's awesome. I pretty much considered you the (un)offical Digital Lover translator for the longest time before you stopped after 66. Great to see you've been getting back into it recently.
Base +9,
heavenlyskyfriday +7
,
udizzle +3
,
_bodi +12
,
hanime_23 -8
Posted on 05 March 2013, 04:59 UTC by
Hakrei

Score
I've been waiting for an SAO Doujinshi of them having something this cute while wearing school uniforms. Could of sworn I saw a color picture of them having sex in uniforms(I'm also a Lizbeth fan), but this will suffice for now. Thanks for the upload and hope to see a English translation soon.
Base +17
Posted on 23 March 2013, 00:29 UTC by
Kitsune Nishidate

Score
@alive & StaticPlume

I can't argue with that. I personally prefer Asuna (I value at character over looks) and chibi-loli Silly-Car, but hey, everyone have their own tastes and favourites. Cheers to that!

@tklh27

Somehow they'll have to find a way to do that second season because the story is not finished yet. After Aincrad and ALO (which my friends tend to call AHO for AlfHeim Online instead) they still have to go through Gun Gale Online (GGO) and Kirito have to then help develop Underworld Online (which is the bridge between SAO and AW). I think that's already enough spoilers around the net already, so ya, I believe that they'll do a second season.

Here's hoping for a second season of AW as well, *clink*!
Base +13
Posted on 04 March 2013, 07:22 UTC by
tklh27

Score
Asuna, "Its against school rules to eat pocky!" ----> Have SEX within school grounds....Seems Legit.

Oh boy does Nakajima Yuka loves SAO, I think besides Ragnarok its like her favourite genre to draw (which is funny because SAO was based on the author's experience in RO). Hopefully she'll continue, if they do a second season (probably due to the number of sales).
Posted on 04 March 2013, 08:02 UTC by
SCSS

Score
Hahaha so cute. <3
Posted on 05 March 2013, 06:24 UTC by
StaticPlume

Score
@alive

Same here. Asuna is sweet and everything, but Sugu and Lizbeth are so much better.