Tip of the Day: You can set favorites to make your own lists that galleries can be categorized and listed by. They can be used for advanced searches, and will show up with a distinct mark on the search page. You can even customize the names of the seven favorite tags.

Front Page

Torrents

My Home

Favorites

Upload Gallery

Maintain Galleries

Toplists

Bounties

News

Forums

Wiki

HentaiVerse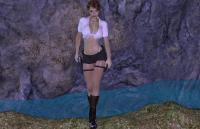 [Dizzy dills] Lara Croft Womb Raider (pics AND story)

Thumbnail Selection
Size:

Normal

Large

Rows:

4

10

20

40

Create External Gallery

Archive Download

Torrent Download ( 0 )

Hentai@Home Download

Gallery Stats

Petition to Expunge

Petition to Rename

Report Gallery

Vick R.

| | |
| --- | --- |
| Posted: | 2012-12-10 02:10 |
| Images: | 23 @ 19.73 MB |
| Resized: | Originals only |
| Parent: | None |
| Visible: | Yes |
| Language: | Japanese |
Rating:

(

50

)
Average: 4.35

Add to Favorites
(
52
)
Showing 1 - 23 of 23 images