Tip of the Day:
You can customize a multitude of facets from the
My Settings
page. For example, you can set a default front page, or change the way the site loads images and thumbnails if you are having problems in the default configuration.

Front Page

Torrents

My Home

Favorites

Upload Gallery

Maintain Galleries

Toplists

Bounties

News

Forums

Wiki

HentaiVerse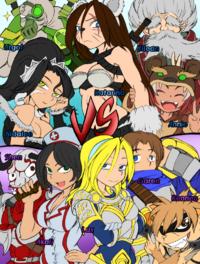 [Kimmundo] When the Servers go Down (League of Legends) [English] (Ongoing)

Thumb Size:
Normal Large

Thumb Rows:
4 8 14 20 26 32 40

Create External Gallery:

Archive Download

Torrent Download ( 2 )

Hentai@Home Download

Gallery Stats

Report Gallery

Snapb

| | |
| --- | --- |
| Posted: | 2012-08-18 17:12 |
| Images: | 91 @ 87.63 MB |
| Resized: | For browsing |
| Parent: | 507038 |
| Visible: | No (Replaced) |
| Language: | English (T) |
Rating:

(

613

)
Average: 4.83
Hello there, cabbiethefirst here. This is the League of legends doujin titled "When the Servers Go Down" written by Kimmundo (ZONE). This is a WIP and is still being written. I'm doing all the coloring, most of the time I have to ink, and most of the translating. It's anticipated length is somewhere around 110 pages. Sorry that some of the pages inside are unfinished, they'll be finished eventually... You can find updates when Kimmundo (ZONE) releases them on Pixiv here: http://www.pixiv.net/member.php?id=2367305 I'll also be posting updates to my R34 page: http://rule34.paheal.net/user/cabbiethefirst Be sure to check out Kimmundo's Pixiv and if you would be so generous as to support, Feel free to donate to paypal @ halftooth12@hotmail.com More to come in the following weeks~ Enjoy! -Cabbiethefirst Update 8/18/12 Updated with 21 more shaded pages.
...

Add to Favorites
(
131
)

Petition to Expunge ( 0% )

Petition to Rename ( 0% / 0% )
Showing 1 - 40 of 91 images