Tip of the Day:
You can customize a multitude of facets from the
My Settings
page. For example, you can set a default front page, or change the way the site loads images and thumbnails if you are having problems in the default configuration.

Front Page

Torrents

My Home

Favorites

Upload Gallery

Maintain Galleries

Toplists

Bounties

News

Forums

Wiki

HentaiVerse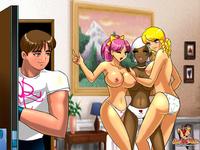 SheAnimale Hentai Collection (800+ Pics!)

Thumb Size:
Normal Large

Thumb Rows:
4 10 20 40

Create External Gallery:

Archive Download

Torrent Download ( 0 )

Hentai@Home Download

Gallery Stats

Report Gallery

Fanmar

| | |
| --- | --- |
| Posted: | 2012-07-03 19:05 |
| Images: | 812 @ 250.7 MB |
| Resized: | For browsing |
| Parent: | 505141 |
| Visible: | No (Replaced) |
| Language: | Japanese |
Rating:

(

120

)
Average: 4.64
A collection of some of the best hentai artwork from SheAnimale, mostly by one artist. I do not own any of these pictures, all rights reserved to SheAnimale and their artists. READ THE EXPUNGING WIKI-PAGE, THIS GALLERY IS CLEARLY SUPERIOR TO OTHERS IN CONTENT AND QUALITY SO EXPUNGING IT FOR BEING A COMPILATION IS NOT A LEGIT REASON. Stop Expunging this gallery because of some duplicate files. Of course there are a few duplicates because there are dozens of single galleries around... but people seem to appreciate my work of separating the good from the bad and putting it all together. This gallery also includes a LOT of pictures NOT found anywhere around here and have general higher quality, so please consider this. Also, this Gallery is WAY older than most galleries out here as well, seriously, how many reasons must I post until you people finally stop expunging on sight? Thank you. Please enjoy! -History- Edit4: A few people keep expunging this after I updated it again even though it was fine before, I guess its the single-gallery-faggots who think they don't get enough hits when they put it all together like me. I'm getting sick of having to re-upload this all the time. READ THE EXPUNGING WIKI-PAGE AND LEAVE THIS GALLERY ALONE. Edit3: And that's ANOTHER 250 new pics added. Other artists and Wallpapers are still at the back, enjoy! Edit2: WHAPOW! That's another 230 extra pictures for you all to enjoy! The wallpapers are almost at the end followed by 2 other sets of another author that also has 'hentai' styled artwork. I might upload another gallery for the other artists if I ever get more of the other sets. Edit1: I have DOUBLED the amount of images in this gallery, and put some of the wallpapers up at the end.
...

Add to Favorites
(
34
)

Show Expunge Log ( 122% )

Petition to Rename ( 0% / 0% )
Showing 801 - 812 of 812 images