Tip of the Day:
You can customize a multitude of facets from the
My Settings
page. For example, you can set a default front page, or change the way the site loads images and thumbnails if you are having problems in the default configuration.

Front Page

Torrents

My Home

Favorites

Upload Gallery

Maintain Galleries

Toplists

Bounties

News

Forums

Wiki

HentaiVerse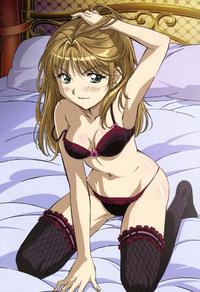 B-Gata H-Kei

Thumb Size:
Normal Large

Thumb Rows:
4 10 20 40

Create External Gallery:

Archive Download

Torrent Download ( 0 )

Hentai@Home Download

Gallery Stats

Report Gallery

hankouu

| | |
| --- | --- |
| Posted: | 2012-06-06 20:59 |
| Images: | 18 @ 4.02 MB |
| Resized: | For browsing |
| Parent: | None |
| Visible: | Yes |
| Language: | Japanese |
Rating:

(

29

)
Average: 1.79

Add to Favorites
(
15
)

Petition to Expunge ( 0% )

Petition to Rename ( 0% / 0% )
Showing 1 - 18 of 18 images
Posted on 06 June 2012, 23:23 UTC by
spex

Score
I have been looking everywhere for some Yamada hentai... this is ALL I have found. It's SOMETHING, but not enough. We need more!

(Also, yeah, the anime was really good. Both funny and romantic.)
Posted on 07 June 2012, 01:58 UTC by
LordXenu

Score
This show is awesome, why the hell is there almost no Rule 34?

EDIT spex: I think that rule34.net has two or three pictures that aren't here. Also, about half of these are official art.
Posted on 22 February 2013, 08:12 UTC by
nick321

Score
@ragdoll_

Explain To Love-Ru then
Posted on 07 June 2012, 18:19 UTC by
ragdoll_

Score
You guys should probably read the manga, they do in fact have sex.

I think this just follows most other series of similar nature. If all the characters are sexually aware, there's no relationship ambiguity, and there's a large amount of borderline pornographic content in the canon, nobody will bother making rule 34 of it. It's self-fulfilling rule 34 so it's just not necessary.

Really, the less sexual a show is, the more it will be fanonically sexualized.
Posted on 07 June 2012, 14:53 UTC by
Fungamespl

Score
@Hectotane There is a lot of series with no sex that have rule 34 all over the Internet. B Gata H Kei just have been made this way, for the characters to get no sex, to show that relatioships are nomething more than sex. Probably.
Posted on 07 June 2012, 03:27 UTC by
Hectotane

Score
@ LordXenu: Because this anime has NO ACTUAL SEX AT ALL. AT ALL. "Future Diary," "GANTZ," and "Rumbling Hearts" had more sex than this. B-gata H-kei is one of those "waiting for something to happen yet get trolled so hard that you RAGE to the point where you wanna bomb Japan a third time" animu.

I recommend instead that you find the /h/-tastic Princess Lover OVA, featuring that non-Saber, and see how it's REALLY done.