Tip of the Day:
You can customize a multitude of facets from the
My Settings
page. For example, you can set a default front page, or change the way the site loads images and thumbnails if you are having problems in the default configuration.

Front Page

Torrents

My Home

Favorites

Upload Gallery

Maintain Galleries

Toplists

Bounties

News

Forums

Wiki

HentaiVerse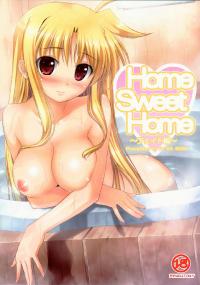 (C80) [IV VA SHIN (Mikuni Mizuki) Home Sweet Home~Fate hen~ (Mahou Shoujo Lyrical Nanoha [Magical Girl Lyrical Nanoha])
(C80) [IV VA SHIN (みくに瑞貴) Home Sweet Home~フェイト編~ (魔法少女リリカルなのは)

Thumb Size:
Normal Large

Thumb Rows:
4 10 20 40

Create External Gallery:

Archive Download

Torrent Download ( 1 )

Hentai@Home Download

Gallery Stats

Report Gallery

yuri2896

| | |
| --- | --- |
| Posted: | 2011-11-12 15:59 |
| Images: | 30 @ 13.55 MB |
| Resized: | Originals only |
| Parent: | None |
| Visible: | Yes |
| Language: | Japanese |
Rating:

(

47

)
Average: 4.91

Add to Favorites
(
64
)

Petition to Expunge ( 0% )

Petition to Rename ( 0% / 0% )
Showing 1 - 30 of 30 images
Posted on 18 May 2014, 18:59 UTC by
Maximum_Joe

Score
http://www.doujinshi.org/book/442846/Home-Sweet-Home-~Fate-hen~/
Posted on 14 November 2011, 06:32 UTC by
dap00

Score
@whatevertheshit: Sure they can, now that girls don't need guys for that. I pretty much wrote off anyone marrying guys when Fate and Nanoha moved in together. Vivio just confirmed what we already knew: that poor nerd Nanoha was supposedly in love with is going to die alone.
Posted on 12 November 2011, 18:06 UTC by
kannushi

Score
Holy...
Is it a... good Fate doujin?
This belongs in my favorites.
Posted on 12 November 2011, 16:22 UTC by
bboyming

Score
nice! thx man!
Posted on 16 November 2011, 21:03 UTC by
killuan

Score
What an A+++ class ass Fate has! <3
Posted on 13 November 2011, 14:43 UTC by
uhho

Score
art work has very high quality one
one of my favourite in this work is on page 4
I'm really like how the author draw her smile, its very very cute and a beautiful one
i think this page should make to be color page and go to back cover or front cover or something that can see at the first glance
it'll make this doujin look more and more interesting
Posted on 26 November 2011, 04:24 UTC by
Wilfriback

Score
That asss, hope a good translation for this doujin soon.
Posted on 13 November 2011, 00:12 UTC by
whatevertheshit

Score
i personally don't think Fate (or any other female characters except Kero in the series) is going to be able to be married.