Tip of the Day:
Are you tired of the same old browser games? Now you can spend endless hours grinding imaginary monsters in the
HentaiVerse
. You can also earn enough Credits to afford a few direct downloads.

Front Page

Torrents

My Home

Favorites

Upload Gallery

Maintain Galleries

Toplists

Bounties

News

Forums

Wiki

HentaiVerse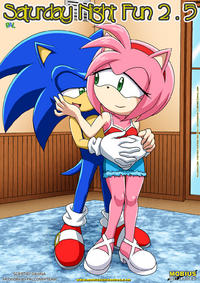 [Palcomix] Saturday Night Fun 2.5 (Sonic The Hedgehog)

Thumb Size:
Normal Large

Thumb Rows:
4 8 14 20 26 32 40

Create External Gallery:

Archive Download

Torrent Download ( 0 )

Hentai@Home Download

Gallery Stats

Report Gallery

ShadowEW

| | |
| --- | --- |
| Posted: | 2010-10-19 22:42 |
| Images: | 10 @ 6.72 MB |
| Resized: | Originals only |
| Parent: | None |
| Visible: | Yes |
| Language: | English |
Rating:

(

25

)
Average: 4.82
[Palcomix] Saturday Night Fun 2.5 (Sonic The Hedgehog) Updated: 18/OCT/2010
...

Add to Favorites
(
80
)

Petition to Expunge ( 0% )

Petition to Rename ( 0% / 0% )
Showing 1 - 10 of 10 images
Posted on 19 October 2010, 22:42 UTC by
ShadowEW

[Palcomix] Saturday Night Fun 2.5 (Sonic The Hedgehog)
Updated: 18/OCT/2010
Posted on 03 November 2010, 02:43 UTC by
371312

Score
Well, here's my review of this particular comic.

For one thing, the plot was pretty plausible. A bit too subtle with the pervert touch part, but then again you might consider it normal if you count the Sonic XXX and the first Saturday Night Fun comic with Sally and Amy. Also expectable, since it's only a half extension like they did with Tails in Sonic XXX 2.5. And I may be either nitpicking or valorizing too much the plot for something I'll forget the moment I get to the sex scenes.

Then the sex scenes. For one thing, they were kinda short and subtle, especially the transition between page 02 and 03 (numbers 03 and 04 here). On the other hand, the well chosen variety of positions for the characters almost make up for it, and it works somewhat like the last pages of Sonic XXX 2. But then another thing strikes, which is the lazy lineart at a few points, especially on Amy. Fortunately, it gets better as the comic progresses, and most of you may consider I might be nitpicking, especially since the lineart errors only occur in the first few pages.

Overall, very little errors, a nice Sonic comic and very recommendable for those who are into Sonic or Amy, especially Amy. Only those who nitpick and have a real hawkeye would dislike this comic entirely.
Base +5,
Timor888 +7
,
mrlolxd137 +4
Posted on 24 October 2010, 21:59 UTC by
furydeath

Score
Cause I'm sure the "for free distribution only" would have nothing to do with it.
Base +8
Posted on 21 October 2010, 19:14 UTC by
AmyUNTOLDfan

Score
Is this being rated poor because it IS poor, or because it's Palcomix/prohibited?

Does this site have no filters for this? I mean Palcomix is actually IN THE TITLE... :-)
Base +6,
Dakina +8
,
neckbreak -8