Tip of the Day:
Simply registering on the
forums
unlocks tons of new functionality, reduces the number of ads you see, increases the allowed number of thumbnail rows, and increases the number of images you can view in a day. Oh, and it's free.

Front Page

Torrents

My Home

Favorites

Upload Gallery

Maintain Galleries

Toplists

Bounties

News

Forums

Wiki

HentaiVerse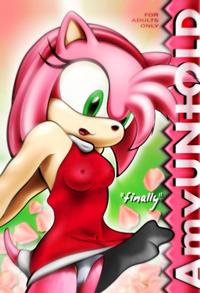 [T.C.] Amy Untold - Finally (Sonic the Hedgehog) [English]

Thumb Size:
Normal Large

Thumb Rows:
4 10 20 40

Create External Gallery:

Archive Download

Torrent Download ( 0 )

Hentai@Home Download

Gallery Stats

Report Gallery

supyloco

| | |
| --- | --- |
| Posted: | 2010-06-02 03:41 |
| Images: | 76 @ 18.14 MB |
| Resized: | For browsing |
| Parent: | None |
| Visible: | Yes |
| Language: | English |
Rating:

(

40

)
Average: 4.90
The full version of the comic with the highest quality and without the scanner flaws
...

Add to Favorites
(
152
)

Petition to Expunge ( 0% )

Petition to Rename ( 108% / 0% )
Showing 1 - 40 of 76 images
Posted on 02 June 2010, 03:41 UTC by
supyloco

The full version of the comic with the highest quality and without the scanner flaws
Posted on 25 August 2013, 07:27 UTC by
AmyUNTOLDfan

Score
A totally new AmyUNTOLD is coming out soon called 'AmyUNTOLD Fantasies I.' !

To that tracing bullshit, i talked to the author, and he told me this (i still could find it in my mailbox):

"I've learned drawing from Furry bomb. There also was one Amy face i so fell in love with i couldn't resist reusing. It is page 06. - (08. here on E-Hentai, i wrote this of course not TC...) - and one of the color gallery's picture (again me, it is #72.). This whole shit about my work for me seems to be an other one of those, where the fans of separate things argue, when the authors of these things get along well or maybe haven't ever spoke a single word to each other, let it be good or bad... Though if the authors of Furry bomb contacted me to express their angriness, i would be truely shocked, because there aren't any traces other than that one face, and i simply can't imagine a better tribute or homage to somebody's work, than learning from their works, and using this kind of a gentle reference. At least i would be honored if someone did the same to my creations. To be honest when i first caught a bit of this tracing topic, without the mentioning of any titles, what came to my mind was 'Holy shit these people know every picture made of females on the Internet?!'... because i really traced a lot. But not from stupid - sorry but i have to express the feeling when i realized they all say my book is a furry bomb ripoff and nothing else - FURRY BOMB!!! I used a ton of real women pictures, also some simple human hentai pics, and used a 3d human biped a lot to get the right proportions... i simply couldn't draw back then, have anybody seen the very first AmyUNTOLD pages for gods sake?"

Just shut up about this for ever...

---

tchentai.blogspot.com
Posted on 04 June 2010, 19:54 UTC by
Eromon

Score
Wow, this person detail is actually out bested every manga/doujin I seen. (Amy's vagina and everything)
Posted on 02 June 2010, 18:42 UTC by
Mythos eyes

Score
Nice gallery.
Posted on 06 June 2010, 07:21 UTC by
piotyr

Score
Well to tell the truth he traced most pics and then added more detail.